Notes from the Field: Overcoming Challenges in CHW Recruitment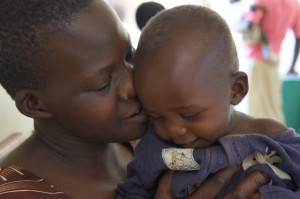 Lwala Community Alliance is a non-governmental organization whose mission is to build the capacity of the people of North Kamagambo, Kenya to improve their own comprehensive well-being. One of the key programs is in community and preventive health. Lwala Community Alliance employs an extensive community health network which uses community members as the drivers and educators of health information and services including water, sanitation and hygiene (WASH); maternal and child health; and family planning and HIV support.
Recruitment Challenges 
Lwala Community Alliance's community health department wanted to recruit Community Health Workers (CHWs) to assist us with our maternal and child health program to create demand for women to give birth with a skilled attendant. One challenge we experienced was deciding which capabilities to focus on when recruiting CHWs for our program. We were struggling to choose between three different options for selecting CHWs:
Recruit qualified community members who are able to read and write.
Recruit individuals who have influence as trusted 'community gatekeepers', whether or not they have the capacity to read or write.
Recruit former Traditional Birth Attendants (TBAs), who are mainly older women with no ability to read or write.
The first option, to recruit qualified and literate community members, was the most favorable choice for us because part of the job included enrolling women into the program. This means: filling out a maternal profile; providing health education and information to pregnant women on pregnancy danger signs, individual birth plans, and exercise and proper nutrition; and data collection and reporting. However, finding enough qualified candidates to serve as CHWs on a full-time basis to cover our entire catchment area was too difficult, as we needed enough CHWs to serve 1,600 households over a period of 2 years.
We explored the possibility of our second option, to recruit 'community gatekeepers', by going through a chief's baraza, a meeting to determine whom the community would select as CHWs. This process was muddled by corruption and clan politics, since many village elders wanted their wives or relatives chosen as CHWs. We found that influence and experience within the community were not valued in the selection process. Individuals who were most suited for the CHW position were left out because they did not belong to the most influential families or clans.
We then turned to the third option, recruiting former TBAs, since we hoped they would serve as a buffer against the looming clash for clients between the hospital and TBAs who had made a name and clientele over the years. We were also cognizant that pregnant women in the community were their primary clientele. The key challenge with this option was that none of the women had formal education, and some were felt to be too old to be trained on new knowledge that they could transfer to their clients.
Ultimately, we decided to form a hybrid system where all of these groups were incorporated. Nine females and one male totaling to ten community members were trained and deployed as maternal and newborn community health workers (MNCHWs), supported by thirty female linkage workers known as Umama Salamas ("safe motherhood" in Swahili). MNCHWs and Umama Salamas, of whom nearly half were TBAs, were assigned the task of identifying and recruiting pregnant women to enroll in a program supporting retention in care from pregnancy through postnatal care (PNC). MNCHWs and Umama Salamas received performance-based compensation for the number of antenatal (ANC) visits, facility deliveries, and PNC visits enrolled women attended. Data on all enrolled women were collected from patient cards, facility registers, and MNCHW logbooks, entered into an Excel database, cleaned and analyzed.
The MNCHWs, who are now called mentors, had at least some secondary education and were able to read and write. They were trained and deployed to enroll pregnant women into the program, provide health education using counselling cards, refer to the hospital, provide monthly reports, and document performance and data. Each MNCHW oversees three Umama Salamas and an average of 90 clients total (30 from each of the 3 Umama Salamas). They fill out maternal profile forms to new clients on enrollment. The maternal profiles are then kept in the office and updated by mentors on a monthly basis in the office.
The 30 Umama Salama, now called community health promoters (CHPs), are tasked with identifying and recruiting pregnant women and reporting to the MNCHW to enroll and provide health education. The CHPs visit or call the women to remind them of their scheduled visits and sometimes accompany pregnant women to the hospital for moral support. Each CHP has at least 30 clients.
There are also 20 CHW generalists recruited by the community through the chief's baraza. These CHWs visit all households within an assigned village and collect data on the general population for the Ministry of Health. All households with pregnant women are then referred to the MNCHWs who enroll them into the safe babies program and follow-up with them going forward.
We have experienced significant success by recruiting a diverse group of CHWs. Prior to recruitment, delivery by skilled birth attendants in the area was at 26% in 2011. Two years following the recruitment and deployment of CHWs, this number rose to 96% in 2013.
The CHWs have been very instrumental in data collection for our outreach-based programs. One challenge of the data collection process is the burden this has put on the ten "mentor mothers". "Mentor mothers" are advanced CHWs skilled in reading and writing, including data collection and reporting. They supervise a team of three CHPs and have additional duties in enrolling pregnant women into the program, providing health education and information, and data collection. Enrollment includes filling out a maternal and child health profile form that is similar to the MCH booklet for every new client identified by CHPs. In addition, mentor mothers provide health education on maternal and child health during ANC, IBP, danger signs during pregnancy, post natal care and child immunizations. The health education also includes water, sanitation and hygiene, HIV/AIDS and family planning.
Each mentor mother has at least 90 households she oversees because each has 3 CHPs under their supervision. The mentor mothers and their team members meet on a weekly basis to share reports and challenges, including difficult clients seen by the mentor mothers. We are currently in the third year of the program and each mentor mother is visiting approximately 150 households each month.
Since our CHWs refer clients to the Lwala Community Hospital, we are able to verify data collected by CHWs using the hospital records. Data collected and reported each month has been useful to help the community health department and hospital in their monthly planning and projections.
This post was authored by Mercy Owuor and James Nardella of Lwala Community Alliance.
Check out Lwala Community Alliance's Kenyan CHW activities on the 1mCHW Campaign Operations Room.