Mbola health team marks World AIDS Day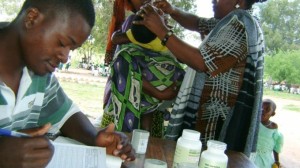 On December 1 of every year Tanzanians join other people in the world to mark World AIDS Day. Apart from speeches, testimonies, as well as voluntary counseling and testing, vitamin A supplementation and de-worming for children under the age of five are normally part of the events organized nation-wide. This is a national campaign whereby every district, division (sub district), ward and village leader are required to participate and mobilize fully all children under five to attend.
Mbola Millennium Village, which is part of the Uyui district, has been participating in this day since its establishment. The project uses Community Health Workers (CHWs) to disseminate information to all households and take part in the provision of vitamin A and de-worming exercise. They also strive to reach remote areas which are not easily accessible by clinicians. This has significantly helped to improve health coverage in the project area as compared to other areas within the district.
This year, the health staff including the CHWs participated in the day's events in style whereby all 15 villages forming the Mbola cluster were included and benefited from the different interventions. Vitamin A supplementation and de-worming were done in all villages by CHWs and clinicians while VCT services were offered at each of the five health facilities in the cluster: Table 1 and Figure 1 below show the achieved coverage with de-worming and vitamin A supplementation in some of MVP villages.
This originally appeared on the Millennium Villages website on December 5, 2012.