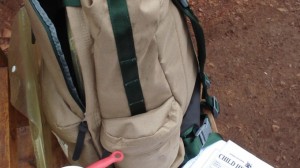 The glitzy New York fashion scene and the muddy hills of a poor Ugandan village may seem worlds apart, but a backpack is bringing them closer.
Lauren and Doreen walk side by side on a dirt road in Ruhiira, a Millennium Village in the South-East of the country, each carrying the exact same bag and chatting away. In Lauren's backpack: notebooks, a camera, travel essentials. In Doreen's: malaria testing kits, a baby scale, multivitamins, medical records.
Lauren Bush and Ellen Gustafson, co-founders of the FEED Foundation, flew in May 2009 from New York to East Africa to see the first samples of the FEED Health bag tested in the field. Doreen and another 47 Community Health Workers (CHW) active in the Millennium Village received a backpack in early May. Now they go around the community of 50,000, visiting villagers and dispensing vital care.
Lauren, the grand-daughter of former U.S. president George H.W. Bush, is not new to the world of aid. In 2004, she became an Honorary Spokesperson for the United Nations World Food Program (WFP) and she visited the program's operations in eight countries.
In 2006, she designed the FEED bag to benefit WFP's School Feeding operations. A year later, she and Ellen launched their own company to scale up the project, sell the bags and allow WFP to feed children with the profits. Now, the two young women are branching out to the health sector and reaching out to African communities through the Millennium Villages Project (MVP).
'At FEED, we like to support programs that are multidimensional, like the school feeding program. When we support the CHWs, it is similarly multidimensional because we support better health and good jobs,' explains Ellen Gustafson.
The new backpacks being tested in Ruhiira were specifically designed for CHWs. Made of eco-friendly waterproof material, the brown or black backpacks allow the health workers for the first time to carry all their equipment, as well as their lunch, during their long working hours. Here, in the remote Ugandan countryside, CHWs walk. Carrying medical kits in makeshift bags from farm to farm on steep, slippery dirt pathways was a daily struggle for them. Public transport or paved roads are non-existent. Before the MVP intervened, people would die simply because their illness was never diagnosed or they couldn't reach a health centre in time. Malaria prevalence was as high as 30% and only one out of 20 babies was born in a clinic. Now, villagers are either treated on the spot by CHWs or are referred to one of the six clinics rehabilitated by the MVP. Pregnant women are encouraged to attend ante-natal visits and are checked on regularly by health workers. 'Our role is to sensitize the population, collect data and treat some cases like measles, diarrhea, and malaria. We also refer emergency cases,' explains Doreen Kyamuto, 27, while getting ready to weigh an infant with her portable scale. Satisfied with the result, she then hands de-worming tablets to the three other barefoot children of the household. Their father, Denis Nwagaba, looks on as the children munch on the sweet tasting pink pills, then thanks her wholeheartedly.
'These backpacks have helped us enormously, because we have a lot of material to carry around and without it we can't do our job properly,' concludes Doreen.
For John Birakwate, another CHW, the bag has been vital in malaria treatment as it allows workers to carry Rapid Diagnostic Tests (RDTs). 'I received information about a sick child here, and I came to test him for malaria,' he says, standing on the porch of Gaston Mugyenyi's household. The man is absent, but his wife comes out with the little boy and her four girls. Cries fill the misty air as John pricks the baby's finger and collects a few drops of blood for the test. Everyone holds their breath while waiting for the result. It is negative. The child is malaria free. With a look of relief on his face, John informs the mother and advises her to take the boy to a clinic for further tests, since he still has some fever. John carefully disposes of the needle in a small plastic container, then packs his bag and starts walking to the next house under a heavy downpour.
'These backpacks are helping people. And people are so happy about it,' assures Doreen.
Ellen and Lauren are hoping to push on with their project and scale it up to other villages by turning the FEED Health bag into a fashion item. The bag will retail next fall in the United States at Kenneth Cole US for $125. For each bag sold, one will be sent to a CHW in one of the Millennium Villages.
'FEED is proud to be part of this program and to make the community health workers' job easy and more efficient,' said Lauren Bush, after two days spent in the field with the community.
This originally appeared on the Millennium Villages website on August 10, 2012.