Health care boosted by a special training in Ruhiira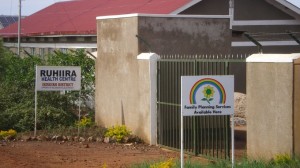 Sounds of laughter intermingled with thumping feet and clapping hands ring across the room as community health workers (CHWs) in Ruhiira perform a traditional Baciga dance. Out of breath and energized, they take their seats in a large room with rows of wooden benches as Alex Kakama, one of the health facilitators, hangs up large sheets of paper with notes on tuberculosis. Notebooks come out, thinking caps are put on, and community health once again becomes the focus of the day.
The Millennium Village of Ruhiira, Uganda is the site of a pilot program that places greater responsibility on the shoulders of community health workers, to boost Community Based Management for Health. The 48 CHWs in Ruhiira underwent an intensive training for the month of April 2009, covering topics such as antenatal care, malnutrition, family planning, respiratory conditions, and many others. The four health facilitators of the Millennium Village spent months preparing for this training with support from the Program in Health Systems based at Columbia University's Earth Institute.
These CHWs are now armed with not only increased health knowledge but also new information management tools and a revised management structure. Eight senior community health workers have been selected through an elective participatory approach combined with final interviews conducted by the health facilitators. These two women and six men are responsible for managing the community health workers in their respective parishes as well as shouldering other responsibilities of the project.
When asked about her new role as a senior community health worker, Shallon Tusiime beams and hoists her baby boy higher on her hip as she exclaims, "it is encouraging and motivates me to work harder to improve the health of my people." Shallon meets weekly with the CHWs in her parish and monitors the number of households they visit and the verbal autopsies they complete to determine the cause of any deaths in the entire parish. As a senior community health worker for Kanyamaizi parish, she will soon begin conducting field exams on the other CHWs in the parish to monitor their performance in providing care at the household level.
Clinic and community sensitizations about this new Community Based Management for Health approach have helped increase cooperation among clinic staff, CHWs, and the community. The community health workers of Ruhiira have also been equipped with special backpacks that help them carry weighing scales for growth monitoring of babies, oral rehydration salts to treat diarrhea, family planning methods, rapid diagnostic tests and coartem therapy for malaria, and their manual from the training which they often use during health education sessions with the community.
In difficult terrain such as Ruhiira, where homes are scattered across mountains dotted with banana plantations and transport is an everyday challenge, provision of proper health care provided by community health workers who can easily traverse these mountains to reach isolated houses is critical.
As numbers and data roll in from the CHWs, the health facilitators are busy designing new interventions to improve the health of the community. High priority households with critical patients such as the 20 year old epileptic boy who lives with his 80 year old grandmother will be identified so that community health workers can close the chasm formed by the deficiency of a strong household head.
Challenges remain but this team of Ruhiira community health workers supported by the entire health team of the Uganda Millennium Village Project march onwards through the banana plantations and down the valleys to take care of their people.
This originally appeared on the Millennium Villages website on June 12, 2012.