Tanzania hosts global 'One Million Community Health Workers Campaign' forum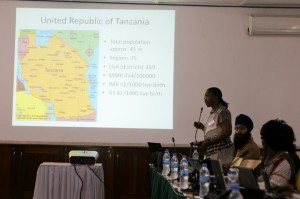 IFAKARA, Tanzania — The Tanzanian Deputy Minister of Health and Social Welfare, Dr. Seif Rashid today opened the international workshop on primary health care service delivery as part of the 'One Million Community Health Workers Campaign'. The four day workshop, the first of its kind, with the support of the Novartis Foundation for Sustainable Development, will focus on the expansion and improved effectiveness of professionalized mobile cadres of community health workers (CHWs) in an effort to accelerate progress towards the Millennium Development Goals.
"The Ministry of Health and Social Welfare in Tanzania is supporting this workshop with a clear purpose," said the Deputy Minister in his opening speech to representatives from eight African countries. "We have to recognise that advances towards the Millennium Development Goals (MDGs) can be greatly accelerated by urgently expanding primary health care service delivery capacity across Sub-Saharan Africa. Community Health Workers are foundational to this strategy."
Many countries are struggling to make progress toward the health related MDGs partly because so many people live in poor rural areas beyond the reach of modern health care. CHWs are the key to overcoming this challenge by taking basic, life-saving care directly to people's homes. Many programs successfully utilize CHWs for disease surveillance and prevention, vital events registration, timely provision of life-saving curative treatments, and patient referrals to health facilities.
Recognizing this, the One Million CHW Campaign supports the mobilizing of lay health workers to reach vulnerable populations, and encourages African governments to urgently expand their capacity to deliver primary health care services. The Campaign has been endorsed at the African Union and is supported by the UN Secretary General. As an initiative of the UN Sustainable Development Solutions Network, the campaign coordinates closely with several African regional networks, global funding agencies, the Global Health Workforce Alliance (GHWA), the World Health Organization and others.
Speaking at the event, Professor Senga Pemba, Director of the Tanzanian Training Centre for International Health (TTCIH), pointed out that in addition to improving people's health, CHWs are also crucial for national health system expansion: "CHWs spend most of their time visiting households in their own communities. Beyond just improving health outcomes, they give their communities a voice and a connection to local government," Professor Pemba said. "This means governments can tailor health programs to best meet local needs."
"The aim," said Dr. Prabhjot Singh, co-chair of the Campaign, "is to build and improve upon current health delivery systems, so that the most vulnerable people across a whole country can receive healthcare. The countries here today are catalyzing that process."
The eight countries participating at the workshop – Comoros, Ghana, Liberia, Malawi, Nigeria, Senegal, Tanzania and Zanzibar – have begun planning the financial and operational development of their CHW systems. During the next three days, they will identify core commitments towards customized and supported CHW upgrade plans. "We hope their leadership will inspire other countries in the region to follow," said Dr Singh.
"It is essential that we increase and support community health workers who form an essential link in service delivery between the primary health facilities and the communities," said the Deputy Minister. "Volunteer CHWs have been with us over many decades and many programs owe their success to these poorly trained and equipped, least supported and unpaid volunteer workforce. They are the unsung heroes of our success whom we have been taking for granted for many years."
"Surely, Tanzania and other nations across the world need to revive and strengthen community based health services in an effective, coordinated and sustainable manner," the Deputy Minister stated.
The workshop is being held at the TTCIH, which collaborates with several international and local institutions such as Novartis Foundation for Sustainable Development, Swiss Tropical and Public Health Institute, University of Athens, Dalhousie University in Canada, Tony Blair Faith Foundation, Columbia University, Wayne State University, Warwick University, Ifakara Health Institute, Saint Francis University College and the Christian Social Services Commission.
For more information on the "One Million Community Health Workers Campaign," visit: 1millionhealthworkers.org