Simple Solutions for Serious Problems: Community Health Workers' use of iCCM is discussed at the 2014 iCCM Evidence Review Symposium in Accra, Ghana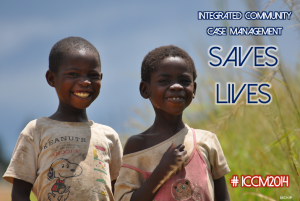 This piece was co-authored by Justine Marshall & Cindil Redick
This week, UNICEF, the World Health Organization, Save the Children, USAID, and other organizations are hosting a review of evidence in support of the integrated community case management (iCCM) of common childhood illnesses – a strategy to deliver high quality care to children in the community and expand the reach of health services.
A child with diarrhea loses essential nutrients and becomes dehydrated and weak very quickly. In rural areas of sub-Saharan Africa, this is a dangerous situation that can turn deadly. There is no doctor to call, no hospital or health clinic nearby, or affordable. However, in some places there is a network of community health workers (CHWs) who can visit households, check the health of their neighbors' children, give evidence-based health advice to parents and caregivers, and carry backpacks of compact supplies and medications.
Data from the recently published Global Burden of Disease study show that nearly half of the estimated 6.8 million deaths in children under-5 years old worldwide in 2010 occurred in sub-Saharan Africa. Just three common and preventable illnesses account for 52% of those deaths – diarrhea, malaria, and pneumonia.
Millennium Development Goal 4 (MDG 4) aims to reduce the 1990 mortality rate among under-5 children by two thirds by 2015. Progress towards this goal remains slow, particularly in sub-Saharan Africa, and many countries are off track to meet their targets.
The iCCM Evidence Review Symposium (being held in Accra, Ghana from March 3-5, 2014) will highlight current best practices in iCCM implementation by bringing together government officials, implementers, technical advisors, and other partners to review current evidence in vital iCCM program areas. There are two main goals of this symposium: to outline priorities, lessons and gaps for improving child and maternal-newborn health, and to help African countries integrate important iCCM practices presented into their health programs.
Current research widely recognizes that iCCM can be delivered by CHWs who are trained, equipped, and supported by national health systems. Standardized training and decision support tools using well-tested algorithms allow CHWs to correctly diagnose and treat malaria, diarrhea and (increasingly) pneumonia. Advances in rapid diagnostics – portable, simple, and fast tests for diseases like malaria and HIV – have introduced even greater accuracy in diagnosis in places far from laboratories.
CHWs can be trained to use iCCM tools and portable diagnostics like a thermometer and a rapid test for malaria to check if a child with fever is positive for malaria and then administer oral anti-malarials in standardized doses. All of these medications and tools can be carried in one backpack by a CHW serving up to 650 rural inhabitants.
The One Million Community Health Workers Campaign is central to supporting the delivery of iCCM in sub-Saharan Africa. The Campaign actively supports national governments and in-country partners that are dedicated to the rapid deployment of trained and equipped lay health workers who can provide basic curative and preventative health services, guided by iCCM evidence, to save lives in their communities.
A child with diarrhea is given oral rehydration solution (ORS) – a small sachet of essential sugars, salts and nutrients, which dissolves in water, along with zinc tablets. These little lifesaving packets are administered by a CHW who will monitor the child's progress, provide hygiene and nutrition advice, and be the essential link between the child's family and the wider national health system. Soon, the child's diarrhea will clear, he will regain his appetite and will be well enough to play and learn. A tragedy is avoided and the future is all the more promising.
For more information on the 2014 iCCM Evidence Review Symposium click here or follow the conversation on twitter #iCCM2014