One Million Community Health Workers Campaign Announces Launch of CHW Profiles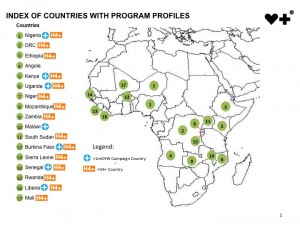 Currently, it is difficult for the global community to assess the state of the world's community health workers. How many community health workers are out there? Who do they work in partnership with? What services do they offer? How are national programs designed? What are the different components to look at when considering scale-up?
In an attempt to answer some of these questions, a wide range of partners, including the One Million Community Health Workers (1mCHW) Campaign, American Red Cross, UNICEF, USAID/MCHIP, and the MDG Health Alliance have collaborated over the past several months in an effort to collect information about Community Health Worker (CHW) programs from countries across Africa. This information has been compiled into one page snapshots that collectively form a high-level program status guide. This guide is intended to fill information gaps that exist within countries and between country stakeholders and global partners who are working conjointly to rapidly scale and strengthen CHW programs.
The 1mCHW Campaign is pleased to announce the official launch of these profiles on our website. The profiles draw on a range of sources, including data on partner programs collected by the 1mCHW Campaign's CHW Registration Form, the UNICEF 2013 iCCM survey, and the Advancing Partners and Communities effort. The CHW profiles will also be available on the CCM Central Website.
The information contained in the profiles represents the best effort by partners involved in the work to capture the most accurate information. However, the 1mCHW Campaign and partners recognize that this information will need continual refinement and refreshment as CHW programs evolve on the ground. Accordingly, the 1mCHW Campaign Field Specialists and members of the iCCM Financing Task Team will work with country stakeholders to revise the profiles over time.
Some of these profiles contain incomplete information and may even have outdated information. Please contact Sharon Kim (sjkim@ei.columbia.edu) if you would like to suggest a revision to a country profile. We would be happy to make modifications.