The Role of mHealth in CHW Programs and Beyond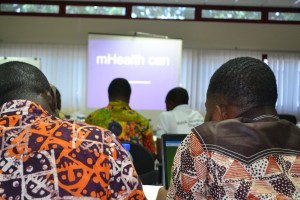 From August 27th – 29th Dimagi, Inc. and the Grameen Foundation hosted a MoTECH Suite Workshop in Accra, Ghana that was attended by our field specialist, Amy. MoTECH Suite is an open source software platform that enables organizations to deploy and manage a wide range of mobile health (mHealth) applications.
The MoTECH Suite Workshop explored how mHealth is improving health outcomes both in Ghana and around the world. Participants learned how mHealth makes health information accessible to its mobile technology users, which can influence positive behavior change. For example, Grameen Foundation's mobile midwife program in Ghana sends pregnant women timed and targeted SMS messages to remind them about upcoming antenatal care appointments and healthy behaviors.
The workshop also investigated how mHealth can improve the efficiency, responsiveness, and management of the health system as a whole. Improved data collection mechanisms can empower health workers and staff to make more informed decisions based on readily available data. Such "real-time" decision-making is key to ensuring that facilities have adequate stocks of medicines and commodities. Dimagi's CommTrack is another mHealth tool used to strengthen logistics and supply chain management in resource-poor settings. In a place like rural Ghana, ensuring "last mile logistics" is literally a lifesaving task – getting a patient to the nearest health facility is devastatingly futile if the clinic lacks adequate treatment and supplies.
Workshop participants also discussed how mHealth tools help community health workers (CHWs) and other health staff to better perform their jobs. Amy was able to compile a long list of applications pertinent to CHWs from the various presentations and case studies discussed. CHWs can utilize the information they collect during home visits to help them plan and prioritize future visits. In this regard, mHealth tools improve CHWs' workflow management, through scheduling applications and generating alerts or reminders. CHWs can also be equipped with jobs aids, such as decision trees, to help them properly diagnose certain illnesses. Additional learning tools include refresher trainings and educational modules to give CHWs the opportunity to advance their knowledge, which might otherwise be difficult in isolated settings.
The potential of mobile technology in the health sector can be almost dizzying. The MoTECH Suite Workshop helped attendees identify and understand best practices for mHealth design and implementation, especially when operating mHealth programs at scale. It was a great opportunity to build a community of mHealth implementers in Ghana and learn about active projects in the country.
As a proponent of mHealth technologies to improve CHW programs, the 1mCHW Campaign recognizes the potential for mHealth to bridge the gap between service delivery and information systems in sub-Saharan Africa. Although mHealth is no "silver bullet," it can tangibly enhance health systems and, in turn, improve the health of those the system intends to serve.
The Campaign was grateful for the opportunity to be a part of such a lively group of mHealth implementers in Ghana! We want to thank Dimagi, Inc. and the Grameen Foundation for hosting this event.