Update from the field: Nigerian CHWs facilitate access to family planning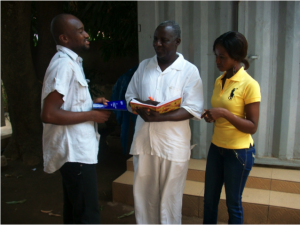 Happy World Population Day! The Campaign's Field Specialist for Nigeria, Shehu Makarfi, recently visited the CHW program in Kaduna State to learn about current family planning practices and services promoted by community health workers (CHWs).
Mallam Ibrahim Abubakar and Anna Hema Lawrence (pictured on the right with Shehu) are two of the CHWs in Kaduna State working with the Nigerian Urban Reproductive Health Initiatives (NURHI) project. This is a five-year project supported by the Bill and Melinda Gates Foundation, which aims to:
Develop cost-effective interventions for integrating quality family planning (FP) with other related health services
 Improve the quality of FP services in high volume clinical settings
Test innovative public-private partnerships and approaches
Develop dynamic interventions for creating demand for FP
Increase funding and supportive policies for FP supplies and services in urban areas.
The role of CHWs is critical in service delivery and family planning education under the NURHI project. In Kaduna, the project hosts about 650 CHWs, who each have a catchment area of approximately 100 households. The CHWs, easily identifiable in their NURHI uniforms, go out into the community to hand out leaflets and posters. They counsel, create awareness, provide accurate information, and refer household members to facilities. The CHWs disseminate culturally appropriate messages to at-risk youth, breastfeeding mothers, and new fathers.
Ibrahim and Anna work as team to maximize their efficiency. In response to questions about their teamwork Anna replied, " Ibrahim talks to men while I talk to women…I enter right inside a house to talk to women, especially in houses where men are not allowed to enter."
When asked about how they evaluate their work, Ibrahim said: "We observe our audience's disposition, through the questions they ask, the number of our referral cards counted in the facilities and of course the turnover of the clients in the facilities, we also get feedback through phone calls and physical visit to our homes by clients. Also when we revisit their neighborhood, they express appreciation for the awareness created or (in few cases) express some complaints on some FP method…We also keep records of number of houses visited and clients' responses."
While Ibrahim and Anna are doing their best to provide services to families in Kaduna, they still face some challenges. The two CHWs stated, "Though we are volunteers, we are still faced with challenges of poor remunerations, even though we are paid a stipend for transport support by the project." They also sometimes face challenging requests from the families that they serve. Ibrahim said, "Husbands resist by saying FP is for women so we should go and talk to women and our training is limited to mobilization for FP services – when we see other cases requiring medical attention we can only encourage hospital visit."
Ibrahim and Anna are so invested in their work; they are also concerned about the project's sustainability and ultimate impact. Anna said, "We do not know who will support us to continue when NURHI project winds up next year."
As with any program, there are areas for improvement in Kaduna's NURHI project. However, NHURI's use of CHWs is an important component for effectively engaging communities in family planning and generating referrals for services at primary health care facilities. In light of World Population Day, the 1mCHW Campaign recognizes the work of the Nigerian Urban Reproductive Health Initiative in improving family health in Nigeria. Other sub-Saharan African nations can learn from this example to make use of CHWs in family planning programs.