Update from the Field: Kenyan Community Health Services Works to Establish National Standards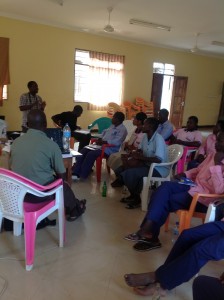 Recently at the Kenyan Ministry of Health, stakeholders came together to help develop more concrete, nation-wide standards for Community Health Services (CHS). Our field specialist, Ivy Mushamiri, attended the event and updated the team here at the One Million Community Health Worker (1mCHW) Campaign on Kenya's community health worker (CHW) policy progress.
In 2010, Kenya overhauled their constitution and decentralized health care administration. As a result, community health programs have been quite disparate and diverse across the country. The Kenyan government decided that the country needed a stronger set of standards in community health to provide a framework for common understanding across the country: a reference point that would facilitate comparison between different Community Health Units (CHUs). The national government wanted to give each county a chance to provide input on the new CHS standards, what the country is calling the Kenya National Standards for Community Health Services (KNSfCHS).
97% of the 47 counties were in attendance, each represented by their Directors of Health and their focal persons for CHS. National CHS staff members also attended the meeting, along with both development and implementing partners.
Given the decentralized governance structure of Kenya's health system, it was important to make clear how the counties would work together with the national government to achieve their health-related goals. Looking forward, county governments will partner with the national CHS office to develop scale-up plans and make them adaptable to county-specific contexts: counties can "adopt or adapt" national plans. They have no obligation to implement national mandates.
What does this mean for the 1mCHW Campaign? The Campaign will be working with individual counties on CHW scale-up. A number of the Kenyan counties were extremely interested in the work of the Campaign, and we are excited to move forward with CHW scale-up work there. This event also emphasized the importance of prioritizing hard to reach populations with little or no existing access to health care, a prime concern of the 1mCHW Campaign's work in the country.
Ultimately, the decentralization of health planning that was brought by the 2010 Kenyan constitution empowers local communities, but also necessitates greater emphasis on national planning and coordination of program implementation. The recent meeting on national standards, KNSfCHS, was an excellent step in this direction.