Reporting from the field in Ghana: Ms. Sule Kulein, GSK Pulse Volunteer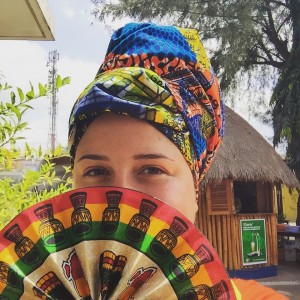 Hello everyone!
My name is Sule Kulein and I am a GSK PULSE Volunteer from Istanbul, Turkey. I am currently on a 6-month assignment, stationed in Ghana, with the One Million Community Health Workers (1mCHW) Campaign. In this blog series I am going to provide you with information about the Campaign's work, progress on my assignments, and of course a little bit about Ghana: The land of friendly people.
My assignment with the Campaign is to provide support to the Operations Room by: meeting with partners to collect data, gathering feedback, and creating a marketing strategy for data collection. I started my journey by visiting the Campaign's Secretariat office located at the Earth Institute at Columbia University. I had the chance to meet the Campaign team and learn about the Operations Room in more detail, so that I could relay this information to our stakeholders in Ghana, our first country of focus. I also had the chance to make Turkish coffee for the team (which I had brought with me from Istanbul). It was quite tricky to find a stove and kitchen equipment to make it and, of course there were no proper ceramic cups to serve it, but I did it anyway! Important note for the reader: This might be the first time in the history of Turkish coffee, where it's cooked in a saucepan and served in a plastic jug.
I cannot thank the Campaign team enough for welcoming me in as they did. I got to work with them side by side, attend the meetings like a regular team member and ask a lot of (sometimes silly) questions. All in all, I admire their ambition and perseverance to make a sustainable change in a part of the world that is so far away and different.
After two weeks in New York, I left for Ghana. Here in the capital city, Accra, I am meeting with other NGOs to introduce them to the Operations Room and see if they have data to provide about community health workers (CHWs) in Ghana. This data will include CHW counts, health indicators, and population coverage, which can empower governments and partners with critical information on human resource gaps impacting healthcare delivery. Additional data will include demographics like CHWs' average age and the type of training they receive.
I have had three meetings so far: HealthKeepers Network, Jhpiego, and Plan International.
Dr. Daniel Ekow Mensah at HealthKeepers Network warmly welcomed me in their office in Amanfro. We had a little tour of their office and storage room, where they keep the medicine and equipment to be provided to CHWs. Dr. Mensah told me about how they are working with CHWs in many regions of Ghana, with a focus on family planning and AIDS prevention. Soon after our meeting, HealthKeepers Network submitted the #AddYourCount form, which informed us about their 209 CHWs from 5 regions in Ghana, serving a population of 92,000 people! I am particularly happy and motivated, because this was my first meeting in Accra.
Chantelle Allen at Jhpiego and Ibrahim Abdallah at Plan International were very welcoming and kind as well. Although these organizations do not directly employ CHWs, but rather support them by means of training or equipment provision, they were quite eager to help as much as possible. I learned a lot from these meetings – they provided contact information for other NGOs that I can reach out to and I received significant insight from these experienced colleagues on how to expand the Operations Room.
Having settled in Accra, I can say I got used to the city pretty quickly, thanks to the tips I received from my colleagues at the Campaign Secretariat. As expected, Accra is quite different from Istanbul and other cities I have visited in Europe and the US. However, it is filled with friendly, helpful people and sometimes quite persistent street vendors. As soon as I feel totally comfortable in Accra, I will be moving on to Kumasi because that's what life is all about!
Please feel free to follow my journey on Twitter: @suleinghana
(I don't always write about work, so don't worry!)
Until next time,
-Sule-