#AddYourCount Series: Living Goods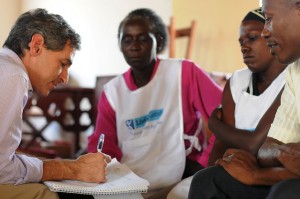 1mCHW is excited to be kicking off a new blog series called #AddYourCount, which is focusing on providing an insider view to CHW programs and the work that they are accomplishing on the ground. The first interview in our series is with Alfred Wise, the Country Director of Living Goods Branch in Uganda. Living Goods aims to "empower the poor through [their] networks of "Avon-like" micro-entrepreneurs who go door-to-door teaching families how to improve their health and wealth while selling a broad assortment of affordable, life-changing products."
What are some of the services provided by your current CHW program?
Living Goods is focused on a model that addresses three of the most common shortcomings in CHW programs:
Performance incentives for agents
Supervision and performance management
100% in-stock supply chain
When we recruit and interview Community Health Promoters (CHPs), we generally interview five people for every one we invite into training. For those selected we provide three weeks of comprehensive training on iCCM, prenatal/ANC care, nutrition and family planning, use of an Android phone with our mHealth applications, products, basic salesmanship, and managing community events. The training also includes a practicum at a local health facility, which is supervised by a local health official.
Our CHPs cover 100-300 households, depending on the density of where they live. They commit to working at least five days a week, two hours a day. During this time they diagnose and treat, provide training on health behavior, give pregnancy/newborn support, and sell basic treatment products for malaria, diarrhea, and respiratory infection. They also sell necessary products such as solar lights, water filters, bed nets, family planning prevention products, fortified foods, feminine pads, and diapers.
Living Goods CHPs earn a margin of the products they sell, and receive some incentives around registering pregnancies and providing timely follow-up to newborns. The economics of the model mean that we recover 100% of the cost of commodities and generate incentives for agents. Ultimately, most customers find the door-to-door service – diagnosis and treatment – to be a better option than paying for transportation to a clinic far away, which may or may not have medicines in stock.
How do demographic and social issues within communities inform and affect the decisions you make with your CHW program?
We focus on hiring agents from the communities we serve. We look for CHPs that have been living in the community for years, and that have a connection and passion for that community. This gives our agents a strong sense of the pulse of the community. Feedback from agents then informs how we select products that are useful for the community.
Because we work in very low-income communities, price is a key restraint. So a key element in our work is credit: CHPs need working capital to procure products to bring to the community. We provide a basket of goods to agents on an initial 6-month consignment period, and then make available short-term credit, so their liquidity doesn't impact their ability to serve their customers.
What are some challenges that you see to scaling-up CHW programs in Uganda?
We are currently in a process of a four-year scale-up, going from 2000 agents to 6000 agents, along with our partners BRAC. Two key challenges we've identified are distribution and talent.
In terms of distribution, as we grow the number of CHPs, it is far more cost effective to expand the catchment areas of branches. The trick is distance for restocking – agents need to get medicine and product easily and affordably. To solve this we are piloting two approaches.
One involves mini-hubs that are gathering points for agents with assembled product on specific days of the week. The branch staff can take pre-orders and bring enough products so that 20-30 agents can come during a set timeframe. So far, this has proven very popular, increasing restock rates and lowering costs to the CHPs. Additionally, there is a social support element to the agents gathering.
The second approach is a hub-and-spoke model in which we have boda boda drivers under contract, with pre-established day routes. Branch staff takes orders the day before, pack items for delivery, and receive payment via mobile money. Interestingly, the more social approach, the mini-hub, seems to be embraced more than the more personal time effective hub-and-spoke.
The challenge we are facing with talent is that as we grow our branches, from 8 last year to 25 in a few years, we need talented, committed, and capable branch management teams. We've piloted, and seen strong success, with a group interview model coupled with a training program. We assess 30-40 candidates, and whittle the group down to 6-8 candidates that we invite to a 6-week management training class. This model is borrowed from the rigor of training class programs run by investment banks. At the end of the class, we can fairly assess who will be a fit, and the candidates can make an informed opinion if this rigorous job is right for them.
How is your organization working to optimize CHWs' impact through technology?
Mobile technology is already a game-changer for Living Goods. All of our agents now carry smartphones that allow them to register and track pregnancies, diagnose and treat childhood illnesses, and track patients for follow-up.
We've partnered with Medic Mobile to deploy dashboards that are monitored at the branches, so our field team can track performance in real time, and see which agents are struggling and need support.
So far we are seeing a number of benefits from the mHealth apps. There has been increased treatment accuracy and quality as the Living Goods smartphones offer menu-guided iCCM assessment, dosage guidelines, automated treatment and pregnancy follow-up reminders, and household registration. mHealth apps have allowed newly enrolled moms to receive automated stage appropriate SMS messages to promote a healthy pregnancy and safe delivery. This free SMS service improves health impact and helps agents build stronger customer relationships.
Furthermore, having agents on call drives prompt treatment. CHPs post their phone number in every client home on "Call me for Help" stickers. Clients can call their agent any time of day or night when a child is ill to get immediate advice or request a house call.
—
If you would like to learn more about Living Goods' products and innovative micro-entrepreneur program please visit their website at LivingGoods.org. Be sure to check back next week for the next interview of the #AddYourCount blog post series!