#AddYourCount Series: Community Health Global Network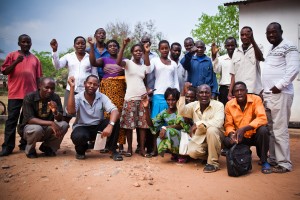 Welcome back for this week's installment of the #addyourcount series! This week we interviewed Elizabeth Wainwright, Managing Director of Community Health Global Network (CHGN), and Walter Rutto, a CHGN Cluster member in Kenya. CHGN's mission is to "encourage communities to recognize their assets and abilities, identify shared concerns and discover solutions together, in order to lead their futures in sustainable ways."
What are some of the services provided by your CHW program?
The CHW programs connected to our Clusters provide a variety of services such as first aid, community health training, education, house-to-house patient care, keeping records of community health, births and deaths, sanitation promotion, and maternal health. Clusters link to a variety of initiatives such as supporting the government's campaign against polio, monitoring the health of children under five, monitoring expectant mothers to encourage them to give birth in a health facility rather than at home, and also working on a campaign for households to adapt pit latrines.
How do demographic and social issues within communities inform and affect the decisions you make with your CHW program? 
Within CHGN's model, we do not make decisions for CHW programs, rather – through out 'Clusters' of community health and development initiatives – we facilitate their discussions and access to appropriate training, connections, and materials. We also encourage collaboration with other community stakeholders. Clusters work closely with local communities to hear and represent their voices. CHW programs attached to the Cluster can then understand and reflect community priorities, working with participating Cluster organizations and individuals to do this.
During this process it helps us to know times and season of the community so that we can schedule our campaign of public health awareness training appropriately. By knowing the illiteracy rates we can also adjust the presentation of our work accordingly. Some lessons also require us to consider gender when selecting trainers for gender based issues that need to be tackled.
What kind of support do Cluster formations provide for CHWs?
Clusters are collaborative groups of local community-based organizations and initiatives. They work to facilitate links, information flow and appropriate collaborations. They also encourage community-led solutions and actions that lead to improved health and wellbeing outcomes. CHWs and CHW programs are able to join Clusters and connect with individuals and organizations that can support them in their work. We currently have Clusters in Kenya, Zambia, India, Myanmar, and will soon have a Cluster in Sierra Leone.
Moral support is an important aspect of the Cluster formation and we do this by accompanying them in their communities.. We also facilitate forums for them to come together to share ideas and challenges they are facing while also organizing periodical training and sharing learning materials. We are also increasingly working with Clusters on income generation, entrepreneurship and organizational sustainability.
How do the hubs in Kericho and Pokot function?
The Clusters in Kericho and Pokot use the collaborative Cluster approach in the local context. This means tackling issues that the Cluster and the surrounding community identify as priority areas. In Kericho, this means working on issues like vulnerable youth, disability, and gender violence. In Pokot, the Cluster is primarily comprised of CHWs, and the work focuses on issues including nutrition, sanitation, and poor maternal health.
The Kericho Cluster meets once a week to discuss and share ideas. Specifically, the Cluster is composed of people from all walks of life and a majority of them are serving through different organizations at the community level. Since each member posses different knowledge, skills, and experiences they mutually benefit from one another. In Pokot there are two divisions – Ngoron and Kolowa – and each has separate CHWs.
Do the Kenyan Clusters work together on specific projects?
Specific priority projects are listed by each Cluster. There are a number of projects. One involves exploring how to use the mobile phone for data collection and how this data can be sent to a central collection point. Others look at supporting disabled groups, and training on substance abuse. Clusters are also looking at long terms priorities like Cluster sustainability, income generation and advocacy.
How is your organization working to optimize CHWs' impact through technology?
This is an area that we want to develop more. We are currently linking the individuals and organizations within Clusters through SMS and email/Google groups. We are also developing online 'hubs' where Cluster members, including CHW programs, will be able to connect, interact and learn from each other and with Clusters in other countries. We also are seeking to partner with organizations that offer CHW gadgets to use for data collection.
Have you faced difficulties in the development and maintenance of the Kenya Cluster?
Yes, in places like Kericho, Cluster members come from different counties, which can cause difficulties. During their transfer or relocation to other regions, they no longer are able to attend the Cluster due to distances. In other Clusters, sometimes members are committed and may take time to meet over a period of time.
What are some challenges that you see to scaling up CHW programs?
Some challenges we have seen are related to issues of security and terrorism. In the relatively short time we have worked alongside our Clusters in Kenya, we have seen this threat increase and become a real concern for many community-based organizations. Also, another challenge is dealing with traditional hierarchy that can sometimes get in the way of shared goals and solutions.
Other challenges include CHW compensation and securing finances to support the utilization of technology in data collection. Long term commitment is another issue — when larger organizations are leading the trainings of CHWs and providing money, one must find a way to sustain their activities after the organizations leave so there is not a collapse of CHW programs. Sometimes we must also deal with the lack of coordination and cooperation between organizations funding CHW programs as well as the government.
How is CHGN preparing for post-2015 and the achievement of the SDGs?
We recognize the interconnected nature of many of the issues facing communities and the wider world today, and we actively encourage a sustainable, community-led approach. In the same way that every country will be expected to work towards achieving the SDGs, we hope that through Clusters, every community member will identify and use their specific skills and gifts to work towards collective dreams for community wellbeing.
The SDGs call for crosscutting partnerships and collaborations, recognizing the issues that cannot be worked on in isolation. We encourage this approach in our Clusters. We also recognize that 'health' touches on physical, mental, relational, environmental, spiritual and other aspects, and we encourage a joined-up approach to improving health outcomes. Our monitoring will also reflect the interconnected and aspirational nature of the SDGs.
—
If you would like to learn more about Community Health Global Network and their amazing work please visit their website or follow them on Facebook or twitter (@CHGN_news). Be sure to check back next week for the next interview of the #AddYourCount blog post series!