1mCHW Campaign South-South Collaboration Workshop Report is Now Available!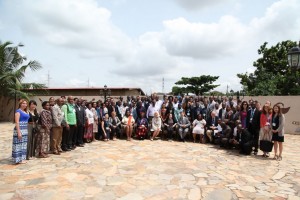 The One Million Community Health Workers (1mCHW) Campaign has finally released a report on the outcomes from its 2015 workshop, Financing Community Health Worker Systems at Scale in Sub-Saharan Africa. This report shows that there is a timely opportunity to invest in government-led scale-up of community health worker programs in sub-Saharan Africa. Released today, the report highlights the importance of community health workers (CHWs) in achieving universal health coverage (UHC), and urges the international community to prioritize funding the scale-up of CHW programs in the post-2015 development agenda.
The workshop, which was convened in Accra, Ghana this past June, to support South-South collaboration among African governments around MOH-led financing for the scale-up of CHW programs, had over 147 participants in attendance, bringing together 15 African countries along with regional and global development experts to provide technical advice and begin country-specific planning for scaled CHW programs to help achieve UHC. The primary aim of these discussions was on financing the scale-up of CHW programs. With a technical focus, the workshop participants discussed strategies and lessons learned from programs, policies, and research on financing CHW programs at scale.
Outcomes from the workshop suggest that there is greater need for CHW program harmonization, use of innovative growth models to expand CHW programs, and a need for diversified financing to fund CHW programs at scale. Research has shown that CHWs are effective at reducing child mortality, improving maternal health, and have made substantive contributions to reduce incidence rates of highly infectious diseases, such as HIV/AIDS. The report recommends that CHWs should be used to help achieve Sustainable Development Goal (SDG) 3. It is noted that, to accomplish SDG 3 and achieve UHC, CHW programs must be properly financed and supported by governments, donors, and NGO partners.
Professor Jeffrey Sachs, along with the 15 participating countries, concluded the workshop with several recommendations for the international community. The key recommendations to African governments and the international community include:
• Expanding domestic funding available for CHW systems;
Ensuring that CHWs are properly trained, remunerated, supported by cutting-edge information systems, and empowered with the proper commodities to provide both preventive and curative care;
Increasing international support for CHW systems to help convert the fragmented global CHW funding into pooled financing that supports national CHW systems.
The complete set of recommendations can be found in the resulting call to action, "A Call to Scale-Up Community Health Workers", which was published on the 1mCHW Campaign website and the Huffington Post.
The full report on the 2015 workshop can be found here.
—
Want to learn more about our 2015 Workshop, Financing Community Health Worker Systems at Scale in Sub-Saharan Africa, check out our Workshop website.