Millenium Villages Project Visit in Amansie West with GHS and YEA
Written by: Amy Veinoglou, 1mCHW West Africa Portfolio Manager

On September 16th, the 1mCHW Campaign team joined the Ghana Health Service (GHS) senior management and representatives from the Ministry of Labor's Youth Employment Agency (YEA) to visit the Millennium Villages Project (MVP) site in Amansie West District. The visit was organized by the 1mCHW Campaign and MVP and provided a unique opportunity for senior government officials and policymakers to see the CHW program in action and visualize how the CHW system strengthens Ghana's flagship primary health care strategy, commonly known as CHPS (Community-based Health Planning and Services).
Over the past several years, the MVP has trained, deployed and managed a cadre of paid community health workers (CHWs) that work in tandem with trained nurses or Community Health Officers (CHOs), who operate out of community-based health posts called CHPS Compounds. The site visit enabled government officials to observe the CHPS compounds and nearby health clinics, hear about the responsibilities of CHWs and CHOs from the workers themselves, and attend a community durbar with the Chiefs and Elders of the Bonsaaso village. Visitors also visited the regional Tele-Consultation Center and witnessed a live demonstration of the mobile health application, CommCare, which is used by CHWs and CHOs to collect real-time health data that informs decision-making.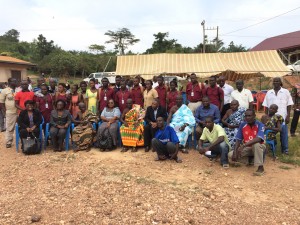 For the 1mCHW Campaign, who has been working closely with the MOH and GHS to secure funding and implement Ghana's National CHW Roadmap, the site visit was an exceptional opportunity for high-level officials to witness the CHW concept in practice. The visit was particularly timely given the Government of Ghana's recent commitment to fund the training and two-year stipend of 10,000 CHWs across the country to accelerate achievement of Universal Health Coverage, especially in rural and underserved areas. His Excellency President John Dramani Mahama proposed that the CHW program be deployed through the Community Improvement Program, under the Ministry of Employment and Labor Relations' Youth Employment Agency. The 10,000 CHWs that will be deployed under this program will cover roughly 35% of Ghana's rural population.
As the government prepares to launch the CHW program nationally by the end of this year, the Bonsaaso visit was an opportunity for the leadership of YEA and GHS to come together and witness the life saving impact of CHWs' work on the ground. Following the site visit, it became apparent to all that the CHW strategy to strengthen CHPS is truly the way forward for Ghana in the new era of the Sustainable Development Goals (SDGs).
We invite you to read through the official report, which captures the MVP site visit in more detail. We look forward to keeping you all informed of upcoming developments with Ghana's government-led CHW program.