#ADDYOURCOUNT SERIES: Amref Health Africa in Kenya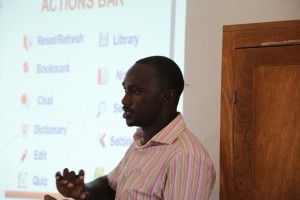 Welcome back for this week's installment of the #addyourcount series! This week we interviewed Mr. Simon Murithi, Project Officer at Amref Health Africa, Directorate of Capacity Building. He has a background in Public Health and a keen interest in the integration of ICT to strengthen community and health systems. Currently, Simon is managing local and regional e&mHealth projects that seek to improve commodity management, data collection and reporting and knowledge and skills enhancement for frontline health workers.
What are some of the services provided by your current CHW programs?
Amref Health Africa's current community health Volunteers (CHV) formerly called Community Health Worker programs include the setup of community units, mapping of households, training of community health volunteers (CHVs), mobilization of communities, and data collection. All these are done in partnership with the Ministry of Heath – Community Health Unit.  In some of our programs, the training, mobilization, and data collection are supported by technologies such as mobile solutions.
What are some challenges that you see to scaling-up CHW programs in Kenya?
The cost of training and retention of CHVs remains a challenge for CHV programs in Kenya. There is need for continuous training and supports to CHVs to enable them carry out their roles and responsibilities in health. The training tends to compete with other responsibilities related to caring for their families and generating revenue. Training costs are also exacerbated by the need for regular refresher trainings to ensure that the CHVs remain updated on relevant knowledge and skills.
Another challenge is the supervision of CHVs by the Community Health Extension Workers (CHEWs). CHEWs are traditionally health care workers based in health facilities across the country. With their regular roles of nursing, clinical medicine, etc., the CHEWs are required to provide support to the CHVs and follow up with them to provide technical support. This increases the CHEWs' work burden in an already difficult situation. The government has plans to hire special cadre of CHEWs whose sole responsibility will be to support the community health strategy. However, this requires substantial investment and MoH plans are underway to make the endeavor possible.
How is your organization working to optimize CHVs' impact through technology?
Amref Health Africa is leveraging the use of mobile technologies to support training, practice, and data collection in support of the community health strategy. One initiative is using basic mobile technology, specifically SMS and voice, to deliver mPedagogically sound content to the CHVs over a period of time. The Health Enablement Learning Platform (HELP) provides a platform that allows the delivery of content, peer collaboration through group chats, assessments and job aids for the CHVs. It also allows for searching of content in the event that a CHV needs to refer to a specific topic.
The content is based on the national CHV training curriculum. M-Jali is another mobile application that has digitized the Ministry of Health (MoH) tools used to collect household data. The mobile app works offline and only requires connectivity to push the entered data to the national database at the MoH.
 —
If you would like to learn more about Amref Health Africa and their amazing work please visit their website or follow them on Facebook or twitter (@Amref_Worldwide). This concludes our #AddYourCount blog post series. Thank you to all of the organizations that participated in this interview series and to our supporters!