Ghana to launch new CHW Programme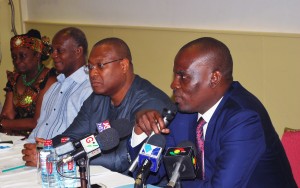 Press conference in Accra, Ghana in January 2016 announcing the CHW Programme
From Right to Left: Hon. Haruna Iddrisu, Minister of Employment and Labor Relations; Hon. Alex Segbefia, Minister of Health; Dr. Appiah Denkyira Director General of GHS; and Madam Alice Attipoe of the Ministry of Employment and Labor Relations
Ghana is planning to launch its Community Health Worker (CHW) Programme, formally known as "The Ghana Community Health Worker Programme under the Youth in Health Module of the Youth Employment Agency (YEA), in Spring 2016. This Programme brings together critical stakeholders including the Ghana Health Service (GHS), Youth Employment Agency (YEA), Ministry of Employment and Labour Relations (MELR), and Ministry of Health (MoH) with support from World Vision International, Ghana, the Savannah Accelerated Development Authority (SADA) and the One Million Community Health Workers (1mCHW) Campaign. The initiative will recruit, train, and deploy 20,000 CHWs and 500 eHealth technical assistants across the country for the next two years. Recruitment and training began in February 2016 using the nationally approved CHW curriculum and implementation guidelines that was finalized by the MOH and GHS with support from World Vision International, Ghana and the 1mCHW Campaign respectively.
The CHW programme not only seeks to strengthen Ghana's health system through the Community-based Health Planning and Services (CHPS) initiative, but will also provide employment opportunities for the country's youth. At a press conference held earlier this year, Mr. Ebo Beecham, the CEO of the Youth Employment Agency, told journalists that this new initiative was part of Ghana's President, H.E. John Dramani Mahama's vision to meet the UN Sustainable Development Goals (SDGs). Specifically, this programme will put Ghana on track to achieving SDG targets: 3.8 universal health coverage, 3.c health financing and the development of a health workforce and, SDG 8 on decent work and economic growth.
The government of Ghana partnered with the 1mCHW Campaign in 2013 to find opportunities to strengthen its Community-based Health Planning and Services (CHPS) program. As a result, the Campaign supported the country in developing a National CHW Roadmap, which is expected to pave the way for 100% health coverage for its rural population by the year 2023. The newly launched programme forms a vital part of fulfilling the intent of this roadmap by providing two-thirds of the CHWs needed for full national coverage.
The Campaign and its implementing agency Millennium Promise are supporting this groundbreaking initiative in two ways. First, partnering with GHS at the national, regional, and district levels to train and deploy over 1,800 CHWs out of the 2,700 earmarked for Ashanti Region with support from GlaxoSmithKline (GSK) and British Telecom, and subsequently the Eni foundation in the Western region of Ghana. In this regard, continuous resource mobilization efforts and collaborative support from partners like SADA, among others, will ensure that CHWs are fully equipped and deployed with mobile phones to improve communications, data collection, community-based disease surveillance, and monitoring. Second, the Campaign is providing technical support to the Government of Ghana at the national level on the scale-up of CHWs across the country to ensure the program incorporates global best practices, applies lessons learned, and builds upon the CHW Roadmap designed by the Campaign, MOH and GHS.
The Campaign has also led efforts to strengthen Ghana's eHealth services. For the new CHW Programme, Samsung generously donated smart phones for the CHWs. They will be equipped with solar chargers and mobile software applications that will help improve point of care decision-making, performance monitoring, patient tracking, and disease surveillance. The data collected from these mobile health platforms will also be used to lead research efforts in the Ashanti Region as a means of informing policy, as well as, strengthening community surveillance systems for detecting disease outbreaks. Through mHealth tools, CHWs can also be linked to existing telemedicine capabilities in other parts of the country, such as a teleconsultation center that enables patients, CHWs, midwives and community health officers (CHOs) to engage in structured consultations with doctors at the district hospital. This helps to reduce unnecessary referrals and facilitates immediate support in emergencies by using technology to overcome geographical barriers.
The future looks very bright for Ghana; this new program is a unique opportunity to address the existing youth unemployment gap while promoting universal health coverage for rural and deprived communities. We look forward to continuous collaboration with the government of Ghana for achieving the SDG targets!